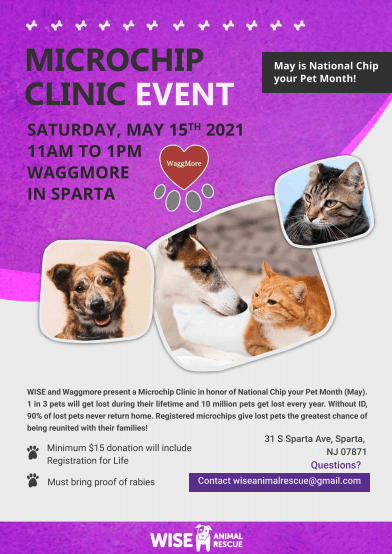 Microchip Clinic Event
The Doggie Adoption Event to Be At!
Please join us Saturday, May 15th from 11am-1pm for a Doggie Adoption event with Wise Animal Rescue! Let's help them find their forever homes.
Will be having a Microchip Clinic during the event as well!
Kissing Doggie Booth
Human Bakery
All Proceeds will go directly to Wise Animal Rescue.
WISE and Waggmore present a Microchip Clinic in honor of National Chip your Pet Month (May). 1 in 3 pets will get lost during their lifetime and 10 million pets get lost every year. Without ID, 90% of lost pets never return home. Registered microchips give lost pets the greatest chance of being reunited with their families!
Minimum $15 donation will include Registration for Life
Must bring proof of rabies
31 S. Sparta Ave, Sparta NJ 07871